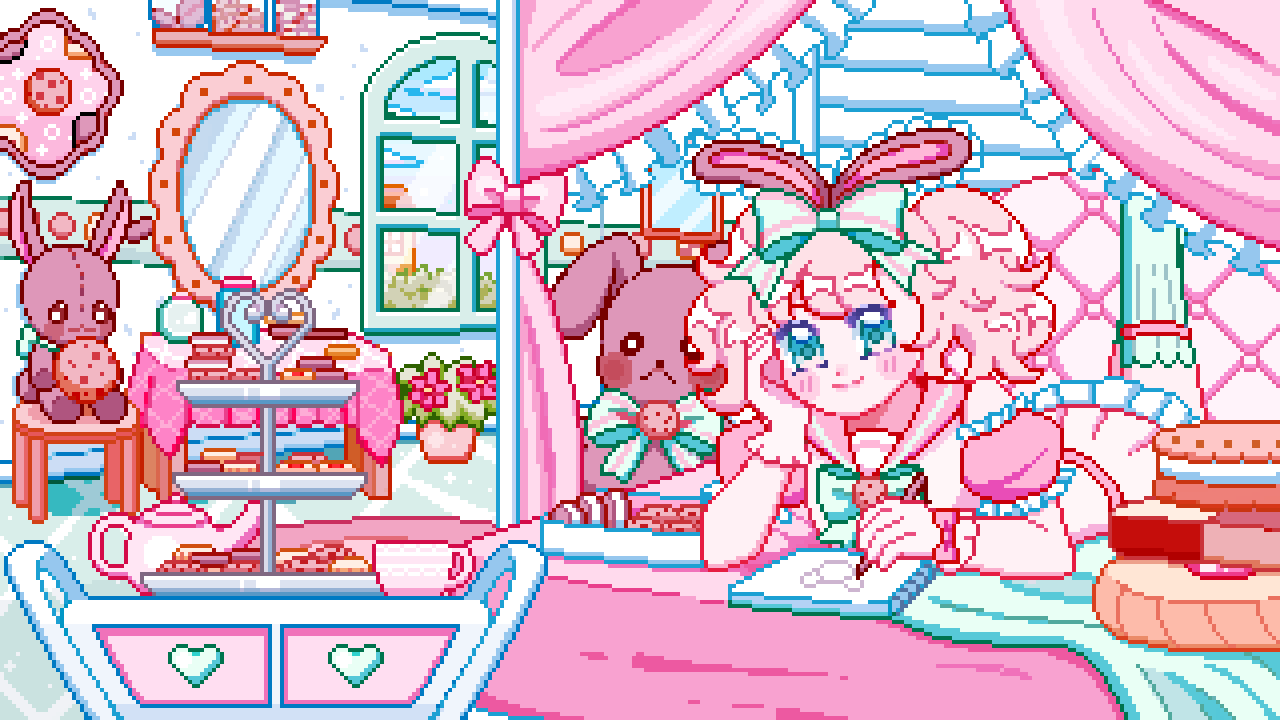 Current Status
---
CLOSED
Applications will reopen around August / September.
Please join my discord for a ping when I reopen!Having your model art ready is not required, however it is strongly advised. If you do not have your model art ready, please mention on your form when your art will be done and upload any sketches or unfinished art you have of it.----I am more than happy to answer any questions about my application process or about Live2D in general. Please DM me on Twitter if you have any questions about the definitions of terms, what you would need for a Live2D model, or anything else.----I am currently not taking commissions for Furry models or Mecha models.NSFW is okay!
---
Pricing
---
Base Pricing
Chibi - $100 - $400
Full Body - $2000All commissions will include a 15% added fee for taxes.
---
Included in base price:
Face Angles XYZ

Body Angles XYZ

Hair Physics for XY

Advanced Mouth Forms

Expressive Eyes + Eye Physics

Arm Physics (for added bounciness)

Additional Body Physics (for added bounciness)

Clothing and Accessory Physics

Breathing

Model Set Up + Help for client
---
Additional Features
| Additional Features | Cost | Notes |
| --- | --- | --- |
| Detail of Model | $100 - $1000 | Depending on the amount of cutting, level of difficulty, and special features your model may have; your model may result in additional fees. Please message me for a price quote or any questions. |
| VBridger Tracking | $100 | iOS/NVidia tracking only, requires VBridger program to run |
| Cheekpuff | $15 | iOS/android only |
| Tongue | $100 | iOS/android only, requires tongue art |
| Mouth X | Incl. | iOS/android/NVidia tracking only |
| Animal Ears | $40 | |
| Animal Tail | $75+ | |
| Simple Expressions | $10-30 | |
| Advanced Expressions | $50+ | |
| Additional Arm Poses | $75 | |
| Additional Outfits | $400 | |
| Additional Hairstyles | $250 | |
| Simple Animations | $60 | Uses only 3-4 moving parts (example: waving animation) |
| Advanced Animations | $150+ | Full body animations |
| Mascot Rigging | $150 | |
| Steppies | $50 | Your model makes a step to the left/right when you lean in that direction. Toggleable |
| Chibi | $50 | Makes your model shorter to look like a "chibi" version of your design Toggleable |
---
Examples
---
---
TOS & Workflow
---
TOS

Payment through PayPal Invoices only

The prices listed are only the base prices for a standard model. The final total may be higher based on difficulty and additional features

I take at least half payment up front, the rest of the payment is due upon completion

Revisions are allowed throughout my rigging process, I will send you regular updates

An extensive amount of revisions or revisions that result in redoing work already done may result in an additional charge

Model revisions are not accepted after 2 weeks of receiving your model. Further revisions after that period will incur fees.

I reserve the right to deny any commission

I reserve the right to withdraw from finishing a commission if problems occur that should make me uncomfortable. Depending on the progress made on the art/time spent you may be issued a full, partial, or no refund.

Full refunds are allowed if I have not started the rigging process yet. Partial refunds will be given if the rigging has been started, proportional to how much work has been done.

My work is not to be used for or in association to NFTs or other crypto related uses.

Please credit me on your tweets you use with this model, about page (on Twitch) and YT description if you plan to use it there. If there is another location you prefer to credit people please contact me to let me know.

Do not claim my work as your own.

You are responsible for checking if your own systems are capable of handling the rig and model.
---
WORKFLOW

Once I receive and approve your commission I will go through the PSD. Once I have gone through it and discussed additional features with you, I will send you the invoice for the model and begin work

I typically do Head Angles > Mouth/Eyes/Hair > Body Angles > Additional Physics > Expressions. I will send you regular updates, feel free to ask for anything changed or edited. Feel free to ask for revisions about processes already completed, it is very easy for me to go back and change things!

Once the model is complete, I will send you it through a google drive link as well as a set of instructions on how to set it up + best practices. Take this as the FIRST draft of the model. Play around with the model for some time, use the expressions, etc and make a list of any issues you have with it or revisions you want made.

Once you are happy with your model, the final payment for the invoice is due. You have a maximum of 2 weeks to pay the final amount for the invoice once the model has been delivered.